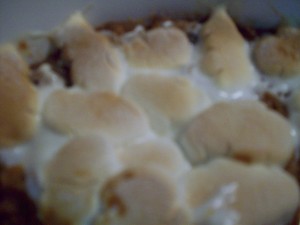 My dear, sweet mother used canned sweet potatoes and most people never noticed the difference.  I don't have her recipe written down (she passed away several years ago), so this is my rendition of her sweet potatoes.  It's an easy recipe which is great if you don't have much time or if you don't want to spend hours in the kitchen prepping and cooking.
INGREDIENTS:
29-ounce can of sweet potatoes, drained
1/4 cup softened butter (I use Spreadable Butter)
3 tablespoons brown sugar
1/4 cup sugar (I substitute KAL Stevia powder for this – 4 tiny level spoonfuls equal 1/4 cup sugar in sweetness)
3 tablespoons milk
1/2 teaspoon vanilla
1/2 teaspoon cinnamon
1/4 teaspoon salt
Marshmallows
Mash potatoes with a fork until mashed but lumpy.  Mix all ingredients except the marshmallows in a mixing bowl with an electric mixer just until well mixed.  Mixture will be a little lumpy.  Place in casserole dish and top with marshmallows.  Bake at 350 degrees for 20-25 minutes until marshmallows are lightly browned.