Hope all the dads out there had a nice Father's Day yesterday.  After church, we (my husband, our son, and I) went to Qdobas to eat lunch after church. I received a coupon by email from them on Friday saying, "Bring this coupon AND Dad in to Qdobas for a free entree for Dad with the purchase of another entree."  That is such a good deal, and since we really like Qdobas, that's where we went.  By the way, if you would like to sign up to get freebies and discounts ever so often by email then here's where you can sign up for a Qdobas Reward Card.
Later after we got home, we had an easy-to-make dessert.  The presentation is what makes something simple look fancy.  (remember my Fancy S'mores?)   Here's our fancy strawberry shortcake that we put together in less than 10 minutes total: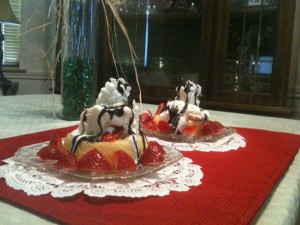 INGREDIENTS:
Pre-made shortcake cups (or sliced pound cake or angel food cake)
Sliced strawberries (We try to use organic!  Be sure and wash non-organic strawberries extra well because they are high in pesticide residue!)
Dreyer's Slow Churned Rich & Creamy Vanilla Yogurt Blends or your favorite frozen yogurt or ice cream
Whipped Cream (we like the extra creamy)
Hershey's Dark Chocolate Syrup to drizzle on the very top
(Paper doilies from Dollar Tree)
Place shortcake cup on a pretty plate.  Cut strawberries in half and place around base of shortcake.  Top with frozen yogurt and top with whipped cream.  Drizzle chocolate syrup on top.  Place plate on top of a paper doilie for a fancy looking dessert that's so simple.
We have several good coupons for freebies this week, so I don't plan to cook every day:
Monday: A new pizza place, Pie Five, has opened up and we have coupons for free personal size pizzas  (update: Pie Five is so good!)
Tuesday: Fried Okra & yellow squash & onions, chicken
Wednesday: Chicken Alfredo Pasta with Broccoli
Thursday: Use coupons for free Panda Express
Friday: Homemade Pizza, salad