Hope everyone has a great Labor Day holiday. Be thankful if you have a job because so many are looking for work these days. I know a lot of people have to work on Monday, but hopefully they can still have time to be with family and friends! For us, no cooking on Monday!!
.
Monday:   Pie Five Pizza (have coupon for a free personal size pizza)
Tuesday: Veggie Scrambled Omelet – Saute chopped onions, zucchini (whatever veggies you have on hand) in extra virgin olive oil for about ten minutes until tender. Pour in scrambled egg mixture and cook until done. Top with cheese.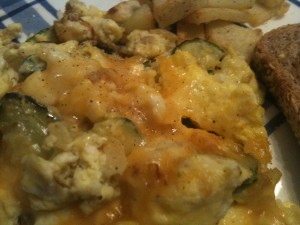 Wednesday: Marinated Chicken Breasts from Food Network (grill on stove top), green beans & onions, salad
Thursday: Salmon Patties, corn, salad
Friday: Pizza, salad