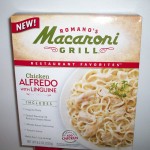 Do you need a quick and easy meal to make at home in 10-15 minutes, and do you need a meal that's comfort food at the same time?  Well, Marcaroni Grill has put out four boxed meals that you can make at home that are delicious.  Their Chicken Alfredo with Linguine just happens to be my husband's favorite, so he is thrilled when I make this at home.  The directions on the box call for fresh chicken breast, but I've always been in a hurry and have made it with a large can of chicken breast and it turns out great.  Here's what you need:
1 box Romano's Marcaroni Grill Chicken Alfredo with Linguine

1 large can chicken breast (direction on box calls for fresh chicken)

butter  (2-3 tablespoons)


milk (1 1/4 cup milk)
TIP:  I buy the Macaroni Grill boxed meal and the canned chicken breast at Wal-Mart.  It costs a lot less than at the regular grocery store.