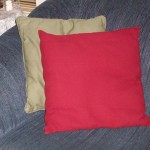 * * * * * * * * * * * * * * * * * * * * * * * * * * * * * * * *
Are you in the mood to redecorate but don't have the money to do it?  I was a while back.  By adding in a touch of color, the look of a room can be changed. In my case, it was adding "red" to our decor. Here's how I did it:
I decided on the color I wanted to add which was red.

I shopped around for bargains and found several.

At Cracker Barrel, I found a $20 red silk flower arrangement on clearance for $5.

At Pottery Barn, I found red pillow covers half price and bought two.  (We had two really nice decorative pillows that came with our sofa, but I was so tired of their floral print.  We still have the nice pillows…only now they're red.)


Also at Pottery Barn, I found a red cranberry wreath half price and bought ribbon at a craft store to make a bow for it.

At a Kirkland's store in the mall, we found two small framed pictures with red flowers that were just perfect.  And they were on clearance, too, for a great price.
Other stores that would be great to check out would be Target's clearance section, Ross Stores, T. J. Maxx, Tuesday Morning, clearance items at Dillard's or any major department store, and possibly Burlington Coat Factory's home section.