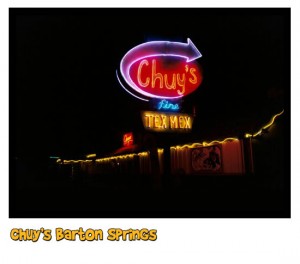 We made an overnight trip to Austin this past weekend for State UIL Band Solo Contest.  This is the third (and last) year we've done this.  Our family tradition is to eat at Chuy's when we're in Austin, and so we had to eat there this time, too.  Besides, we had to celebrate our son getting a score of "1" which is the highest score one can get at UIL.
Chuy's is big on atmosphere and great food.  They have awesome  enchiladas, guacamole, and salsa, just to name a few items.  Tortillas are made there on location at their restaurants, chicken is cooked there (not frozen or canned chicken), guacamole and salsa are freshly made…does that give you an idea about the quality of their food?
They are also known for their cool T-shirts which they sell at the check-out counter, and probably their most famous T-shirt is "Keep Austin Weird."

Their locations have spread from Austin to other Texas cities.  I looked online, and these are the Texas cities where Chuy's is located:
* Austin (3 locations)
* Dallas
* Houston
* Round Rock
* San Antonio
* Selma

* Arlington

If you visit one of these places, try to eat at Chuy's while you're there.  It's a fun place to eat great Tex-Mex Food.  Maybe it will become a family tradition with you, too!
NOTE:   The original Chuy's from Austin is not located in Ft. Worth.  The one in Ft. Worth is "Chuys Mexican Restaurant" and Google just happens to have a link to the original Austin Chuy's beside each Ft. Worth listing.  However, I made a phone call to verify and found out those are two distinct restaurants.