This is actually our menu for last week that I never finished.  It was a crazy week, so I wanted to go the easy route for this menu.  My menus are for two people right now, but when our son comes home from college in May, they will be for three people or more if he has friends over.    Last time, he had six friends over making nine of us at the table.  It was fun!

Monday: Savory Rotisserie Chicken from Krogers with corn (organic, frozen) and baby lima beans (frozen)
Tuesday: Leftover Rotisserie Chicken with peas & carrots (frozen) and salad made with Romaine lettuce & tomatoes

Wednesday: "Almost Homemade Rotisserie Chicken Soup"   This spur-of-the-moment recipe was a hit with my husband who commented several times saying, "SOUPerb," etc.  It just happened to be the right blend of spices, chicken and veggies, that tasted good to us and was very satisfying.  I'm guessing at some of the amounts because I didn't measure anything.  I think most of us do that!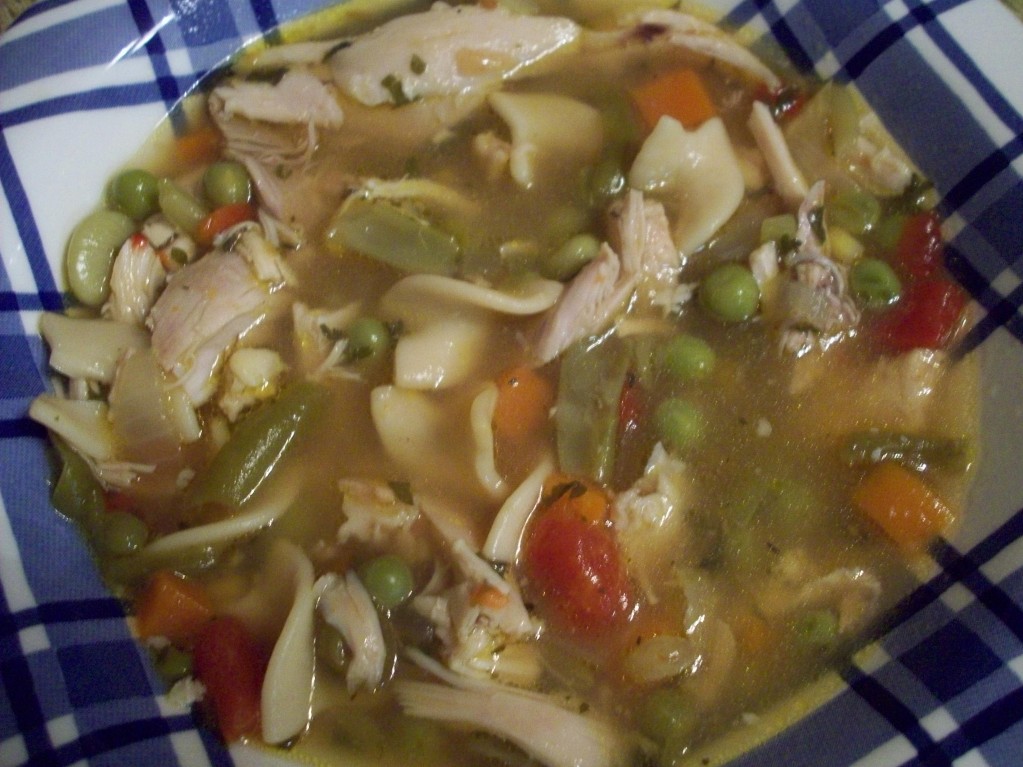 INGREDIENTS FOR SOUP:
1 can chicken broth

1/2 medium sized onion, chopped

1 1/2 cups bite size pieces of chicken from Krogers' Savory Rotisserie Chicken (Remember that whatever seasonings are on the chicken will affect the taste of the soup.   "Savory" seasonings work well with soup.)

1 can Progresso Light "Roasted Chicken & Vegetables" soup  (or left-over pasta and extra broth)


2 cups of favorite frozen veggies – I used left-over corn, lima beans, peas & carrots from Monday and Tuesday nights (plus I used 1/2 cup canned french-style green beans, cut into 1-inch strips,  which my husband really liked)

4 teaspoons parsley

1/2 teaspoon thyme

1 teaspoon minced garlic

2 tablespoons EVOO

1/4 -1/2 cup salsa, depending on how spicy you like it
DIRECTIONS:
Cook the onion in the chicken broth for 10 minutes.  Add the remaining ingredients, bring just to a boil and then simmer for 10 more minutes.  Quick and "easy as pie."
*****************************************************************************

(I wonder how that saying originated, "easy as pie."  I've heard it all my life.   OK, I just googled it, and the earliest reference to it was in a Rhode Island newspaper in 1887.  I read in another article what it probably means is "easy as eating pie."  Big difference!  I think a lot of cooks would agree that making a pie is not always easy and simple.  Except for my mom, cousin Sherry, and a friend of ours, Jackie K, who could probably make pies in their sleep.  Actually, those of you who make pies a lot probably think it's pretty easy.  Hmmm…I need to put making more pies on my list of things to improve on.)
*****************************************************************************

Thursday:
Homemade Salmon Patties,  black-eyed peas (frozen) & fresh tomato salad
Friday:
Tired on Fridays!  Bring something in!