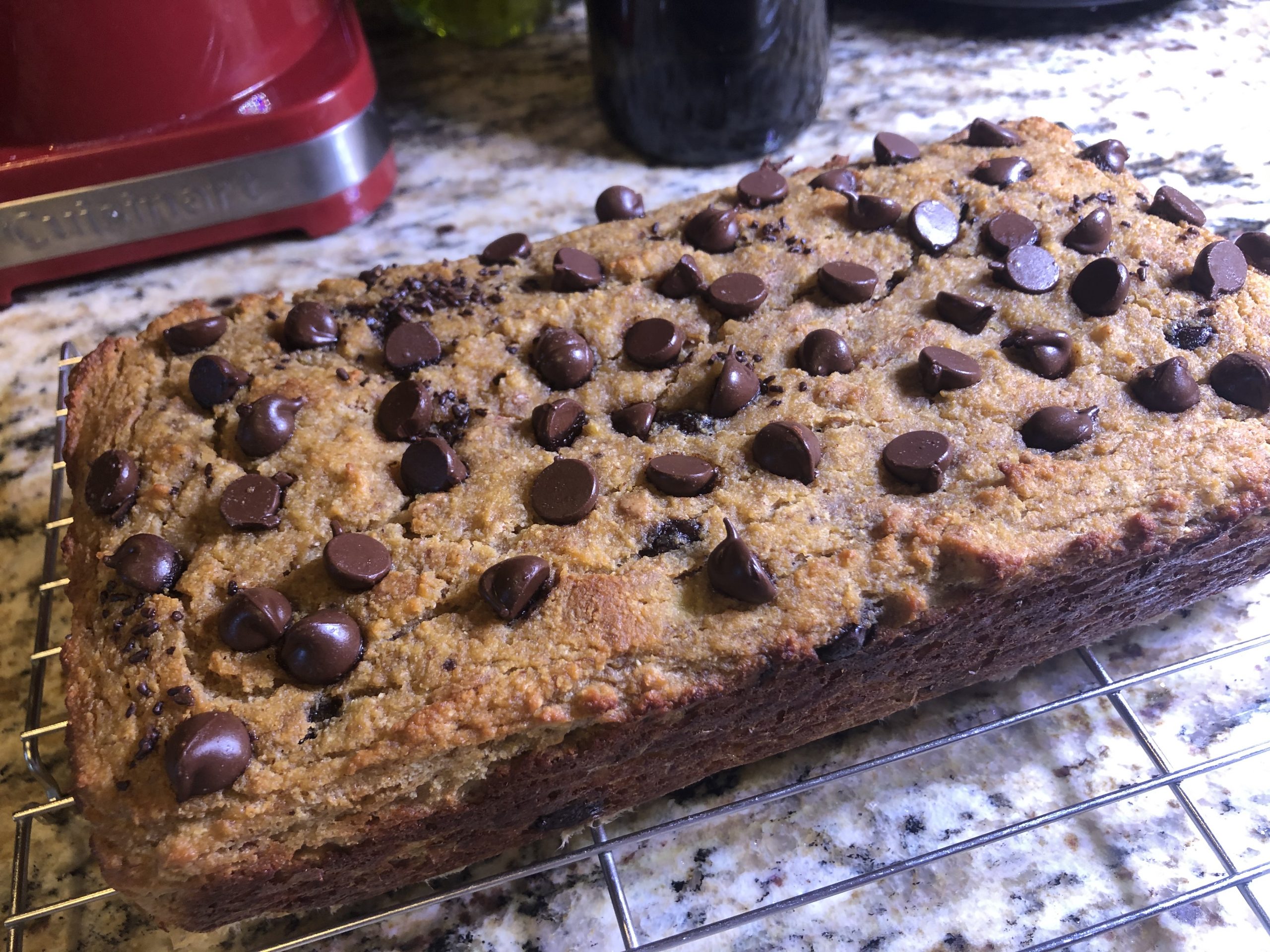 I've been cooking so much since this Pandemic started. Does that sound familiar? I've heard that from other people too. I haven't baked this much in ages either. I decided though, after the first month, that I needed to focus on healthy treats and sweets.
The internet is a great source of recipes. And after having over-ripe bananas several times, I decided to bake banana bread. I've heard from other people that they've been baking a lot of banana bread too.  I wanted something gluten-free, though, because gluten can cause an inflammatory response. I know it does with me if I eat very much.
In my search for a good gluten free recipe, I came across one using coconut flour. I tried it and thought it was delicious. However, when I counted up the fat grams in the loaf, I thought WOW! That's a lot of fat no matter how healthy the fat. So I tweaked the recipe and substituted 1/2 cup unsweetened applesauce for 1/2 cup of the fat. It worked fine!
I kept tweaking the recipe. I wanted to increase the protein in it so it would be a complete breakfast in one large slice of banana bread. It already had three eggs but I upped it to four large eggs which made 24 grams of protein. I also added a scoop of organic whey protein powder, which added 20 grams of protein, plus a tablespoon of almond milk to add more moisture. The almond butter added protein as well.
So here's my recipe. It's gluten-free, high protein, lower fat, no added sugar if you don't count the chocolate chips (ha ha), and has a good amount of fiber which makes it filling. You mix it up in one pan which is awesome for easy clean up. You don't need a mixer. This is SO easy!
Preheat oven to 350 degrees. I line my loaf pan with parchment paper or you can grease the pan if you prefer. Put the bananas in a large bowl and mash them with a fork. Add the wet ingredients and mix together. It's okay if there are a few small lumps. Add the dry ingredients and mix well but do not overmix. Then last, add the chocolate chips, saving some to put on top after you put the batter in the pan and smooth it out. Bake for 40-45 minutes. Enjoy!
WET INGREDIENTS:
1 cup minimum of mashed ripe bananas (or two small-medium bananas)
4 large eggs (I use organic, pasture raised)
1/3 cup almond butter (original recipe called for 1/2)
1/2 cup unsweetened applesauce (I keep the single serving, lunchbox sizes on hand. One of those is 1/2 cup applesauce. Perfect!  Again, I use organic.)
1 tablespoon Coconut Oil (I use organic. You can use butter if you don't have coconut oil. The original recipe called for 1/2 cup of this oil and no applesauce.)
1 tablespoon Almond Milk (Leave this out if you don't add whey protein powder to this recipe.  I use unsweetened vanilla almond milk)
1 tablespoon vanilla (Make sure you buy 100% vanilla. It's so worth it! I don't wash the measuring spoon until later that day because I keep smelling the vanilla scent left on the spoon. So relaxing!)
DRY INGREDIENTS:
1/2 Coconut Flour (I use organic)
1 scoop of Whey Protein Powder (Optional. I use organic – mine has a very light vanilla flavor)
1/2 teaspoon baking soda
1/2 teaspoon baking powder
1/4 teaspoon salt
1/2 cup dark chocolate chips
Store in an airtight container. It will last four days on the counter (unless eaten sooner than that).
Enjoy! ~ Charla