If you happen to be traveling to Fort Worth, here are a few ideas from a Metroplex Area local.  When we travel, we like to visit the one-of-a-kind, local places as much as we can, so here are some tips that I hope will be helpful in planning your trip:
ATTRACTIONS
Bass Performance Hall @ 4th and Calhoun Streets in Sundance Square, downtown Fort Worth.  Free tours of this absolutely beautiful performance hall are offered on Saturdays at 10:30 a.m.  Check their Events Calendar for events and concerts.
.
.
Blue Bonnet Bakery @ 4705 Camp Bowie Blvd. in an historical 1920s-era church building which received the Historic Fort Worth 2011 Preservation Award.  For over 75 years, they've been well-known for their sugar cookies, desserts, & more!
.
.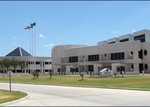 Bureau of Engraving and Printing @ 9000 Blue Mound Road, one of only two currency printing facilities in the United States.  Admission is free.  This is geared more for adults and older children.  The tour is interesting but involves a lot of walking and standing.
.
.
Casa Manana @ 3101 West Lancaster Avenue off University Drive features a stage that extends into the audience on three sides.  For over 50 years, they have provided professional theatre performances.
.
.
Fort Worth Botanic Garden @ 3220 Botanic Garden Blvd. off University Drive.  This is the oldest botanic garden in Texas and such a pretty place to walk or drive through.  There is free admission to nearly all of the gardens, however, there is an admission fee for the Japanese Garden.
.
.
.
Fort Worth Stock Yards @ Exchange Avenue and N. Main Street.  There are numerous attractions, restaurants, and shopping in this area, including the Stockyards Championship Rodeo, Stockyards Museum, Cowtown Coliseum, Texas Cowboy Hall of Fame, Grapevine Vintage Railroad, and Petting Zoo.  There's a lot to see and do in this area!
.
.
Fort Worth Zoo @ 1989 Colonial Parkway.  Admission is half-price on Wednesdays.  It's  ranked #5 in the nation by USA Travel Guide, a top zoo by Family Life magazine, the Los Angeles Times and USA Today,  and named the #1 attraction in the Dallas/ Fort Worth Metroplex by Zagat Survey U.S. Family Travel Guide.
.
.
Forest Park Miniature Railroad is close to the Fort Worth Zoo.  (CASH only: prices).   The ride is about five miles long and lasts 35-40 minutes for the round trip.  This train is a Fort Worth family tradition since 1959 and is a favorite for children of all ages!  We love it, especially our grandsons, even our college-age son, and actually…the whole family!
.
.

Log Cabin Village @ 2100 Log Cabin Village Lane, located close to the Fort Worth Zoo, contains six log houses, dating back to the mid 1800s and furnished with authentic furnishings. Popular for school field trips.
.
.
.
Montgomery Plaza @ 2600 W. Seventh St. in Fort Worth's Cultural District.  A renovated Montgomery Ward building, originally built in 1928 and once the largest building in Texas.  This is a favorite of ours!  We like to eat at Pei Wei and also Pie Five Pizza.
.
.

Sundance Square is located in downtown Fort Worth and is a hub for hotels, events, restaurants, entertainment, and shopping.  This includes Bass Performance Hall and Circle Theatre as well as P.F. Chang's China Bistro and Razzoo's Cajun Cafe.   And it's fun just to walk around the area on a pretty day.
.
.


MUSEUM DISTRICT:
These museums are located in close proximity to each other:
.
Amon Carter Museum of American Art  @ 3501 Camp Bowie Blvd.  Note the exterior walls of the museum.  Texas shell stone was used which, in my opinion, makes the walls a work of art.  Admission is free to this museum.
.
Fort Worth Museum of Science and History @ at 1600 Gendy St. (off Camp Bowie Blvd.)  Each Bank of America  cardholder gets free admission through their Museums on Us Program the first full weekend of every month.  Children are charged regular children's admission.  Great museum for families, and I highly recommend it!
.
Kimbell Art Museum  @ 3333 Camp Bowie Blvd.  The building was designed by a renowned architect and is widely recognized as one of the most significant works of architecture today.   The landscaping and skylights add to the museum experience.  The museum always has free admission to their permanent collection.
.
.

Modern Art Museum of Fort Worth  @ 3200 Darnell St. (not far off Camp Bowie Blvd.)  Admission is free on the first Sunday of every month & half price every Wednesday.  The Grand Lobby, Café Modern, and the Modern Shop are always free.  This museum was named one of the "World's Most Beautiful Art Museums" by Travel + Leisure Magazine.
.

National Cowgirl Museum and Hall of Fame @ 1720 Gendy St. (off Camp Bowie Blvd.)   Ages 2 & under are free with a paid adult.  The museum's slogan is "The only thing pink about growing up cowgirl is a sunset,"  and they honor women in the past and present who help shape the American West.
.
.
.RESTAURANTS:
There are many, many other restaurants, but here are just a few ideas (several are family owned)..
Kincaid's Hamburgers @ 4901 Camp Bowie Blvd.  The Grocery started in 1946 and began making hamburgers in 1964.  Their hamburgers were chosen as the best burger in the USA in the late 1960's and have been the best burger in Fort Worth many times.  Note, the original Kincaid's on Camp Bowie is the only location that still serves the way they did back in the 60's.
.
.
Paris Coffee Shop  @ 704 W. Magnolia is not a French cafe.  It is like taking a step back in time to the sixties, full of nostalgia.  However, the definition of a "Parisian Cafe" is a center of social and culinary life, and that is the Paris Coffee Shop.  It is the meeting place!  Well known for their homemade pies, their Coconut Cream Pie is a favorite.
.
.

Mexican Inn Cafe with several locations in the Fort Worth area, originally opened in 1936.   Their family tradition is to make their own masa for their chips and tortillas.  Their chips are unique, more like homemade fritos, and are a favorite of many.  Eating at Mexican Inn is a tradition of many families in the area.
.
.
Pie Five Pizza opened last year in Montgomery Plaza @ 2600 W. 7th Street. Its trendy atmosphere, pizzas ready to eat in five minutes, and awesome selection of toppings are three reasons why it's a favorite.  It reminds me of a Subway for pizza because each personal size pizza is made exactly to your specifications with no extra charge.
.
.
Riscky's Barbeque with several locations, dates back to the late twenties with Polish immigrants, and the Riscky family has been in business ever since with six locations in the Fort Worth area.  They serve the best quality meats and their barbeque sauce is a favorite of many, as well as their seasoned french fries.  The atmosphere is truly Texan!
.
.
Shaws Patio Bar and Grill @ 1057 W. Magnolia Avenue (Magnolia Ave. – a popular hub for restaurants) is a family owned restaurant with a family fun atmosphere, including flatscreens, a juke box, and live music.  They have "Hamburger Happy Hour" every Tuesday-Thursday from 4:00-7:00 p.m. and feature 1/2 price burgers.
.
.
..