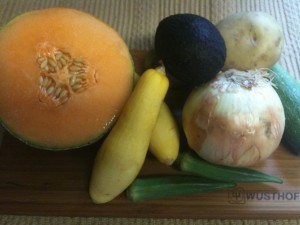 Welcome to the beginning of what I plan to be my "Healthy Eating" category, a series with information about which foods contain what vitamins and minerals, and how these particular nutritive components of foods benefit us health wise. We know a lot of this information, but sometimes we get so busy and forget and go on autopilot.  It's good to be reminded every now and then.
A is well known as an antioxidant and very helpful during the cold & flu season.  It's also great for eye health,  acne, bones, teeth, healing stomach ulcers, and can even help lower cholesterol.
Another very important fact about Vitamin A is that the body can't utilize protein without it.  It's a must-have vitamin!  That's something I forget, that Vitamin A can help my body use the protein in my meal.  I try to eat a good amount of protein in every meal, not too much but the recommended amount.  If I'm not eating enough Vitamin A in my diet, though, then my body is probably not using the protein efficiently.  Looking at the list below, it's easy to see how protein can be paired with one or two of the foods below.   There are quite a few food combinations that could be made for a healthy meal.
.Here are some healthy sources of Vitamin A:
Fruits:  apricots, cantaloupe, grapefruit, papayas, peaches, pumpkin, tomato, watermelon
Veggies:  asparagus, broccoli, brussel sprouts, carrots, greens, kale, peas, red peppers, spinach, butternut squash, sweet potatoes
Herbs:  alfalfa, cayenne, fennel seed, kelp, lemongrass, paprika, parsley, peppermint, raspberry leaf, sage, watercress
Liver